You are here
MassArt Common Good Awards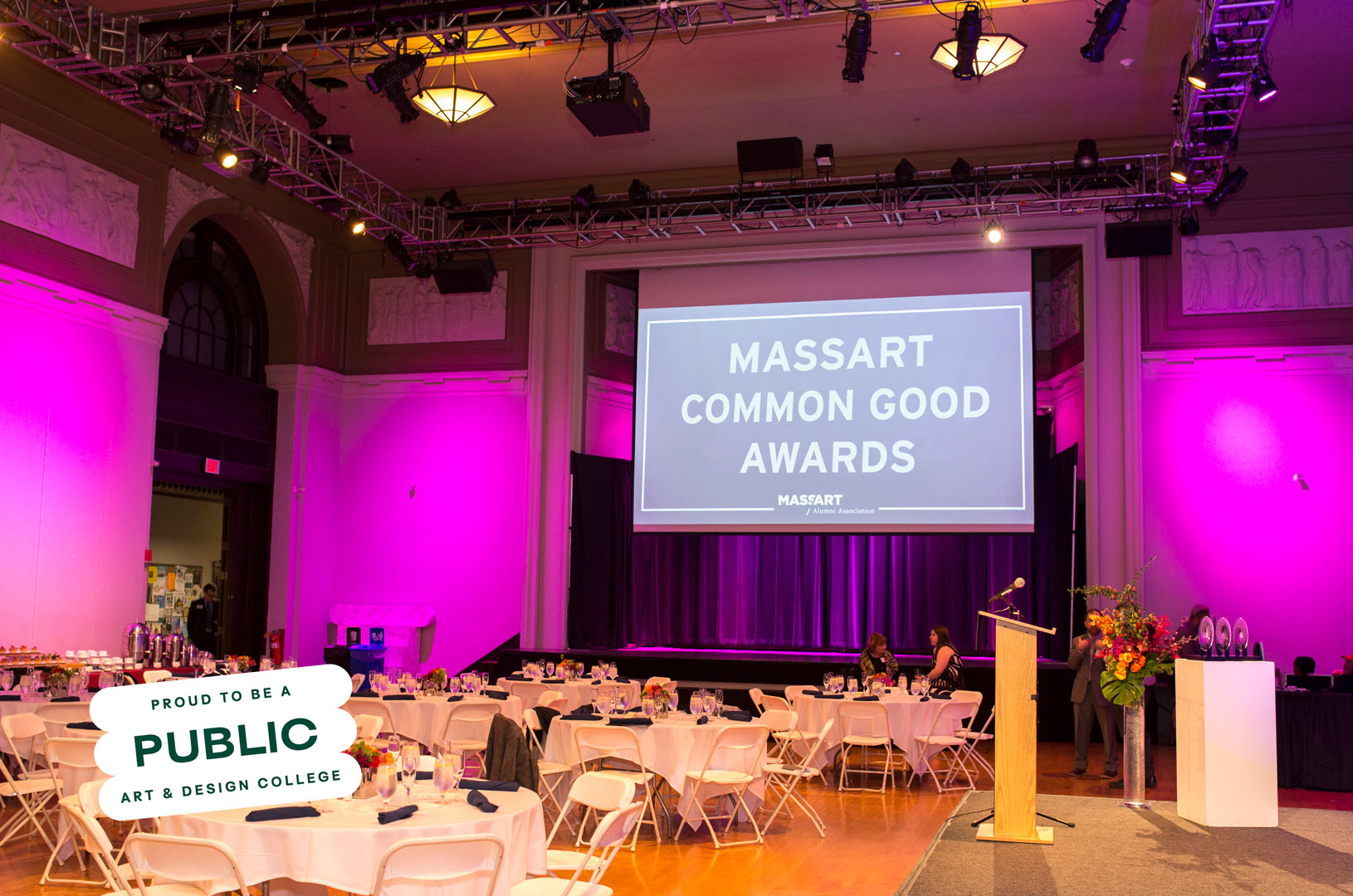 Nominations are being accepted for the inaugural MassArt Common Good Awards, which celebrate the contributions of individuals and organizations at the intersection of civic life, arts and culture.
About the Awards
Saturday, December 16, 2023  |  11AM  |  Design and Media Center, MassARt
MassArt Common Good Awards, established a part of the College's 150th anniversary year, will honor a group of individuals and/or organizations that exemplify public practice in the arts.
These awards will celebrate the integration of arts and culture in civic life, honoring those who push boundaries in advocacy, teaching, placemaking, and creation, emphasizing the arts' public influence on problem-solving and quality of life.
As the only independent, publicly-funded arts and design college in the US, MassArt has been a catalyst for envisioning the role of art, culture, and design in all aspects of life. We look forward to celebrating the contributions of individuals from across the Commonwealth and beyond.
 The first annual awards ceremony will take place at MassArt on Saturday, December 16, 2023, at 11 a.m. Further details will be available in October.
"Arts, culture, and design are everywhere, embedded in all facets of our lives. As a public institution, we exist at the nexus of service, civic life, arts, and culture."
                                                      - Dr. Mary Grant
Call for Nominations
Nominations are now open and will be accepted through October 2, 2023 for MassArt Common Good Awards. We expect to honor five or six awardees, with a special Alumni Award given to an individual who attended MassArt, and an award given to a current or retired public school K-12 teacher in Massachusetts. Other awards will celebrate a wide range of individuals and organizations who contribute to the fields of art, culture, and civic life. The categories are as follows:
The Alumni Award (one award) - nominees must have attended MassArt.

The Frances Euphemia Thompson Award for Excellence in Teaching (one award) - nominees must be an active or retired art teacher in a public K-12 setting in Massachusetts.

General MassArt Common Good Awards

(multiple awards) - nominees do not need to have any MassArt affiliation.
For MassArt Common Good Awards, we ask nominators to think broadly about individuals and organizations doing great work at the intersection of art and civic life. For instance, awards could be to an architect or landscape architect who worked on a public project or successfully incorporated public use into a private project; a public artist; an elected or appointed public official who has advanced the sector in a meaningful way; a designer who made something for a public purpose; someone who took a bold stand related to arts and culture; a youth artist working in community; someone working to address artist displacement; someone working in arts and health; an innovator, etc.
Please note: while there is one specific alumni award, alumni may be nominated in any category.
Nominee

Criteria
Celebrating Arts and Culture: 

For the purposes of nomination, arts and culture should be broadly defined, and include visual and performing arts, literature, film, fashion, design, advocacy, administration, creative economy, etc.


 

Honoring Visionaries and Advocates: We seek to think differently and surprise people with what might be considered arts victories. We seek individuals and organizations pushing the boundaries in advocacy, teaching, placemaking, and creation, emphasizing the public impact of arts in problem-solving and enhancing quality of life.

Diverse Recognition: We look for nominations that are highly intersectional to illustrate the intrinsic value of arts and culture in our built environment. Nominees need not be affiliated with MassArt or Massachusetts. Nominations are being solicited from the MassArt community as well as the broader arts community in Massachusetts and beyond.

You may nominate more than one person, but please use one form per nomination.

Everyone is eligible to nominate, including self-nominations.

Preference will be given to individuals, organizations, and ideas with Massachusetts ties.
Nominations will be accepted through October 2, 2023.