You are here
Commencement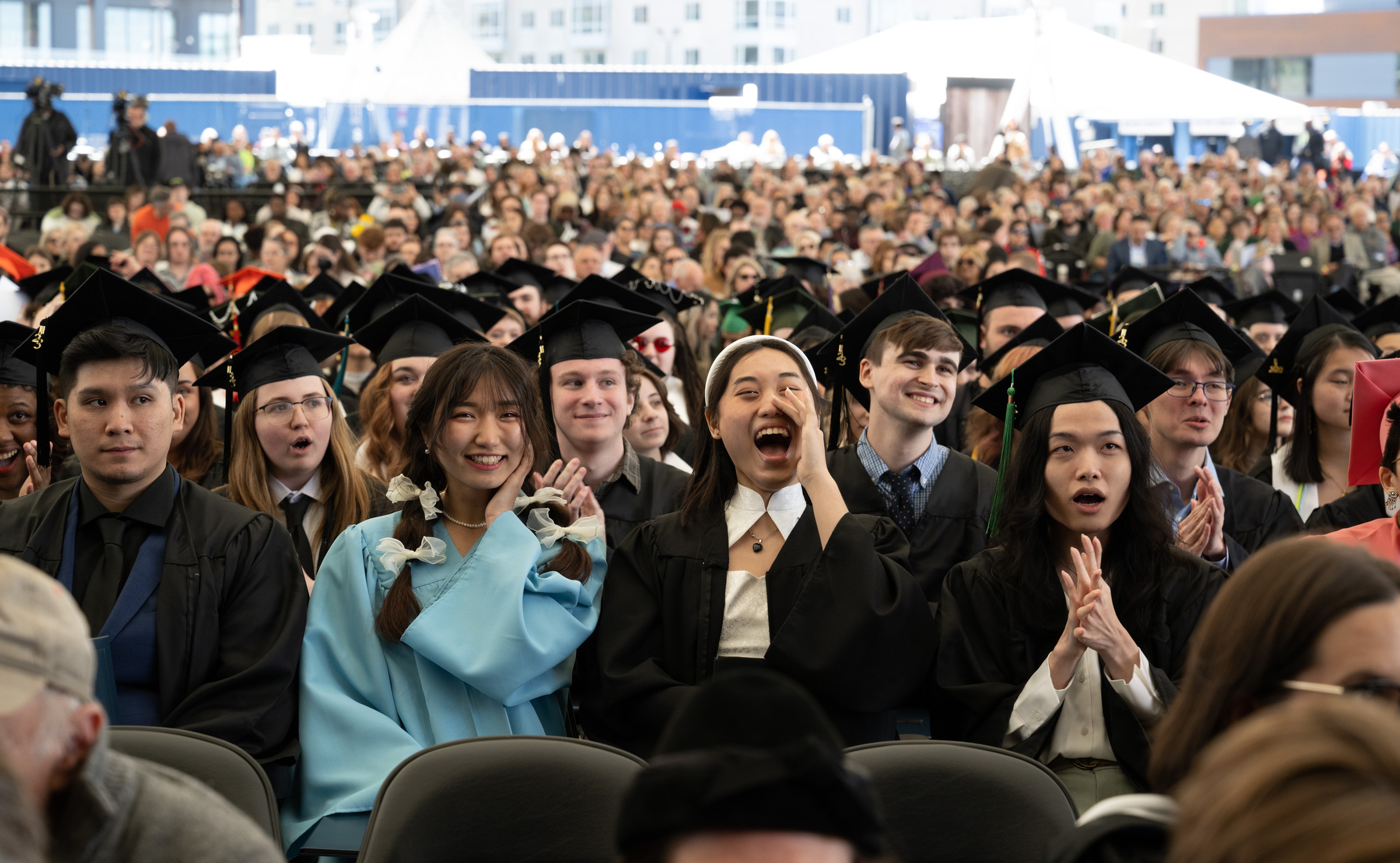 MassArt celebrated its 2023 Commencement on Thursday, May 18 at the Leader Bank Pavilion, an open-air, tented amphitheater on the South Boston Waterfront.
Browse Commencement Week Photos
---
Commencement Ceremony
Watch MassArt's Commencement ceremony, recorded on Thursday, May 18, 2023. The Commencement procession begins at 32:56.
---
Commencement Honorees
Our Honorary Degree and Award Recipients demonstrate the values at the core of MassArt–including commitment to equity, community, innovation, uncommon creativity, and excellence. It will be an honor to recognize them on this very special day for our graduates. 
Oscar-nominated filmmaker Debra Granik will deliver the commencement address and receive an honorary doctor of fine arts degree at the ceremony. The ceremony will also feature the awarding of honorary doctor of fine arts degrees to Rob "ProBlak" Gibbs, local visual artist, organizer, and community builder; and M. David Lee, architect, planner and educator. Dr. Katherine Sloan, MassArt President Emerita, will be awarded the college's Morton R. Godine Award.
Debra Granik
is an independent film and documentary film director and screenwriter. She is best known for 2010's
Winter's Bone
, which starred Jennifer Lawrence and led to four Academy Award nominations. Among Granik's other acclaimed films are 2004's
Down to the Bone
, which starred Vera Farmiga, and 2018's
Leave No Trace,
a New York Times critic's pick. While Granik spent time working on educational media projects and long form documentaries by Boston-area filmmakers, she took film classes at MassArt's Studio for Interrelated Media (SIM).
---
Rob "ProBlak" Gibbs
is a visual artist, organizer, and community builder who has transformed the cultural landscape of Boston through his powerful art and commitment to youth education. Born and raised in Roxbury, Massachusetts during the hip-hop golden era, Gibbs saw the power of graffiti as a form of self-expression. A co-founder of Artists for Humanity (AFH), for three decades he has served as an art educator and mentor. As part of the GN Crew Boston team, Gibbs was named the inaugural Maurice Tyrone Adderley artist-in-residence at MassArt in 2022. 
---
M. David Lee
is an award-winning architect, planner and educator who has completed planning and urban design projects nationwide. He served on the MassArt Board of Trustees for a decade (including as Chair), and has held faculty positions at Rhode Island School of Design, MIT, and the Harvard Graduate School of Design. Architectural projects completed under his leadership include the Savin Hill MBTA station and the John D. O'Bryant African American Institute at Northeastern University. Lee has served as President of the Boston Society of Architects (BSA), and received the BSA Year 2000 Award of Honor, and the National Organization of Minority Architects (NOMA) 2010 Lifetime Achievement Award, along with his late business partner and his firm's co-founder, Donald Stull, FAIA. 
---
Dr. Katherine "Kay" Sloan
,
President Emerita of MassArt
, will receive the college's Morton R. Godine Award in recognition of her professional and personal dedication to the advancement of arts and culture in society. As President from 1996 to 2011, Dr. Sloan led MassArt to unprecedented growth, and fostered the development of its national and international reputation as a leading college for visual art and design.

Read MassArt's Commencement Press Release to learn more about the Morton R. Godine Award and this year's honorary degree recipients.