You are here
Nat and Irene Bellantoni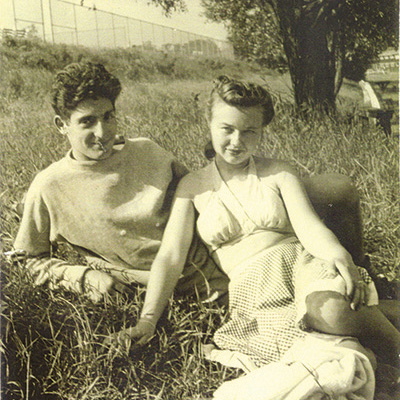 THE BEGINNING
There are many ways to define a life: geography, education, career, family, personal skills, service, community engagement, but perhaps the most defining feature of any life is love. The people we love, the memories we impart, the lives we touch.
Natale Bellantoni's story of a life well lived is deeply rooted in all these elements: his personal geography and education were defined by his childhood in Boston, his years at MassArt, his enlistment in the Navy during World War II, and the decades he spent working in downtown Boston and living with his family in the city's northern suburbs. He had a successful career as an advertising executive and extensive skills in drawing, painting, and drafting. He served his country for over three years as a Seabee in World War 2. But most enduring was the love he shared with Irene, his MassArt sweetheart and later his wife, and their three children. Through peaceful and turbulent times, Nat Bellantoni's life was consistently defined by creativity and love.
A 1939 graduate of Boston English High School, Nat was always an artist, and he knew that his dream of turning his talent into a future would be achieved as soon as he walked through the doors of MassArt. But history interfered; Europe was beginning to roil. The Nazis would soon set off on their relentless march across the continent, and Japan would subjugate China. It all seemed far away, but the war would soon hit close to home. 
As the clock was ticking in Europe, Nat's own world was expanding. He'd traveled less than two miles from home to reach MassArt, but his life was already bigger. He was finding a new path in a familiar city, and moving toward his dreams. For the first time, he was surrounded by young artists with the same goal as his: to be a creative force. But there was a second, delightful, sun-filled distraction: classmate and aspiring fashion designer Irene Sztucinski. After meeting in class, Nat and Irene quickly became inseparable.
Nat, Irene, and a group of MassArt classmates (who stayed connected for their entire lives), spent their free time picnicking, laughing, and painting around Boston. Nat's father owned a small grocery in the South End, and Nat would stock up on cheese, wine, and bread. With enough paint, friendship, and food, the student artists were able to keep the rest of the world at bay. 
Nat and Irene fell in love with each other as they fell in love with the possibilities for a shared future. A future they envisioned full of art, design, and hope. But in 1941, after Pearl Harbor was bombed, hope was in short supply. 
In the fall of 1942, when Nat and Irene returned for junior year at MassArt, Nat had to make a critical decision: enlist or wait to be drafted. Nat knew about the Seabees, the US Naval Construction Battalions, and he decided that building airfields, supply depots, staging areas and camp-sites would put his skills to use and he'd be building instead of killing. He joined the Navy, went to boot camp and afterwards was sent for advanced training at camouflage school, where he learned techniques for disguising military targets. Irene remained at home, living on her family's farm in Reading, MA, unsure of when, or if, she'd see Nat again.
---
THE WAR ABROAD AND AT HOME
In February 1943, Nat was commissioned with the 78th Battalion at Camp Peary, VA. He wouldn't return home for nearly four years. All that time, Irene would wait. Wait for mail. Wait for news. Wait for Nat. He was traveling across the planet to the war's Pacific theater. Destinations were confidential; Nat didn't know where he was headed until he'd arrived on another beach, another "Island X." But he always wrote letters to Irene:
"...Ed and Al are all ok, getting rusty faces from the sun and we're all spending most of our time reading and talking about things in general - namely our loved ones!! Sometimes when I stand "forward" and watch the sunset I can almost feel you beside me, breathing deeply and lovely - I pray for a soon return to you - for I love you endlessly and we've been away much too long - the love we give to each other will be great for it!!"
Nat saw distant parts of the world, dots on the map contested by super powers: Manus, Los Negros, Ponam, Okinawa. It was impossible for Irene to know where Nat was. With each letter, it felt as if he'd sailed even farther away. She was never certain that he was still alive. Nat and Irene lived in suspended animation, day-by-day, dreaming of when their shared future would begin, while standing on opposite sides of the world. Irene had given up her dream of fashion design; the middle of a world war didn't present much opportunity for a young woman from Boston to create haute couture. Instead, she put her creativity into designing window displays for a downtown department store. And she waited. She waited with other MassArt women, whose sweethearts had also been flung across the world, fighting and building and holding out hope.
Nat became the Battalion's de facto artist. He worked on the newspaper and the Battalion Log, collaborating with the Battalion photographer who became a close friend, and together they chronicled the war in the Pacific as they saw it happening. Nat's sketches and watercolors are extraordinary windows onto the war in the Pacific. They capture moments in time, both serene and terrifying. Personal and universally impactful. He painted the construction of Quonset huts and palm frond cathedrals, shirtless Seabees piecing together walls and roofs. His compositions of marksmen in gun turrets are close and eerie. Bombed Okinawan bridges are beautiful and wrenching. B52s and P-39s flying over lush tropical fields. He also painted nose art on fighter jets, designed stained glass for the chapel, and paintings for the officers' mess. Nat mastered the ability to reveal, through paint and pencils, the combination of motion, contradiction, sweat, fear, beauty and horror that he witnessed, and lived, during his years in the war.
Thinking of Irene was a relief, and a dream, and with a little bit of magic he brought her to the Pacific - sort of. Nat purchased a local grass skirt, sent it to Irene, had her take a photo of herself in it, and send it back to him. With a bit of darkroom alchemy and a photo of himself in a sarong on the beach, he combined the two of them smiling, as if on a honeymoon that neither could be certain would happen.
---
THE END OF THE WAR AND A NEW BEGINNING
For three years, Nat was a witness and recorder of history. After the atomic bombs were dropped on Hiroshima and Nagasaki, he was present on the tiny island of Ie Shima when Japanese emissaries, including the emperor, were transferred to US planes bound for Manila and the war's surrender ceremonies. Then, on November 5th, at 11pm, he wrote this letter to Irene:
"Irenka-
This is it - we just got word to be ready packed by 0600 in the morning to leave for the receiving station and on to a ship - no telling when it will pull out, but it won't take long, perhaps it may leave tomorrow who knows - I thought we were going to leave today as I expressed in one of my last letters but I wasn't far from wrong - So darling - wear a happy smile 'cause your man is coming home for good now!!! I'll be counting the minutes from now on - Ever, ever your love forever."
From then on, Nat had his eyes on the future, and the rest of his life with Irene. They were married within weeks of his return; Irene designed and made her wedding dress, Nat wore his Navy uniform. 
After the war, Nat rarely spoke about his life as a Seabee, but four paintings always hung over the couch in the family's home, all of them depictions of the South Pacific. "They lived a perfect life and he wanted to forget what he'd seen," explained their daughter Nancy Bellantoni, one of Nat's three children. "I imagine there was some PTSD on both sides. Neither was the same person when he returned, they'd both lived the war in their own ways." 
The Bellantoni's were hopeful that their children would be artists, too. "My parents painted on the weekends," Nancy said. "Especially my mother. All the kids had paints and paper. She would take us out to the salt marshes in New Hampshire and we'd paint if we wanted to or not. They lived a very aesthetic life, full of beauty and art."
The indoctrination worked. Nancy is a designer, and one of her brothers, David, is a glassblower and also a MassArt grad. The year that David graduated, Irene received her Master's from MassArt in art education. She was a lifelong educator, encouraging and teaching her children, their friends, and the larger community to paint, draw, compose, and see the world clearly and with color. She pursued the advanced degree largely for herself, and although she was never employed as a teacher, she dedicated her life to sharing the tools, skills, and pleasure of creating art.
Nat Bellantoni wasn't able to design his war-time life, but through art he found a way to tolerate and accept it. "My father made beautiful compositions of what he saw, like planes being shot down while he was burrowed into a foxhole," Nancy described. "He may have been more able to handle the burden because he was processing it while he was experiencing it, in ways that others weren't. He may have benefited from the power of his own form of art therapy." Nat also benefited from the power of love, knowing that Irene was on the other side of the Pacific, far away, pausing her future until he returned.
The Battalion Artist, published by The Hoover Institution Press is Nat's legacy. The book is a tribute and a piece of the historical record. According to Nancy, Nat's drawings, paintings, letters and notes had been packed away in boxes for over six decades. Eventually, he retrieved them, and asked Nancy to help him write the book. She immediately recognized the power and importance of her father's work, and Nat's ability to transform three years of World War II into a visual chronicle, placing himself in the middle of global history. "Artists are our storytellers," she emphasized. If we didn't have art we wouldn't have a way to tell our history so others can learn. Artists are archivists, and my father is the perfect example."
A special thanks to the Bellantoni family for sharing their story. All images courtesy the Hoover Institution Library & Archives.
To learn more, visit: The Battalion Artist Book and The Battalion Artist Online Exhibition.
Stay connected with the Alumni community