You are here
Photography Lecture Series: Genevieve Gaignard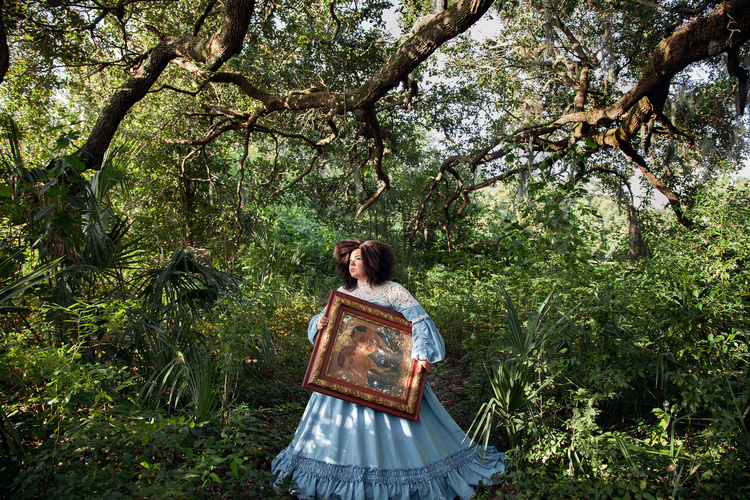 Date:
Tuesday, February 9, 2021
The MassArt Photography Department is pleased to welcome Genevieve Gaignard as the second visiting artist of the Spring 2021 Photography Lecture Series. Please join us via Zoom at 2pm on February 9th.
Genevieve Gaignard is a Los Angeles-based artist whose work focuses on installation, sculpture, and photographic self-portraiture to explore race, femininity, and class. As a biracial woman in America, Gaignard investigates the aesthetic and cultural divide between black and white, a chasm as palpable as it is "invisible." She interrogates notions of "passing" by positioning her own female body as the chief site of exploration - challenging viewers to navigate the powers and anxieties of intersectional identity. Her work has been included in numerous solo and group exhibitions including: The Smithsonian National Portrait Gallery, D.C.; Crystal Bridges Museum of Art, AR; The Studio Museum in Harlem, NY; California African American Museum, CA; Massachusetts Museum of Contemporary Art, MA; and Prospect.4, LA. Gaignard received her BFA in Photography from Massachusetts College of Art and Design, Boston, MA, and her MFA in Photography from Yale University, New Haven, CT.
*All Photography lectures are free and open to the public. Please note that all lectures will be held virtually on Zoom for the Spring 2021 semester.
Image: Genevieve Gaignard, Trailblazer (A Dream Deferred), 2017, courtesy of the artist and Vielmetter Los Angeles