You are here
Commencement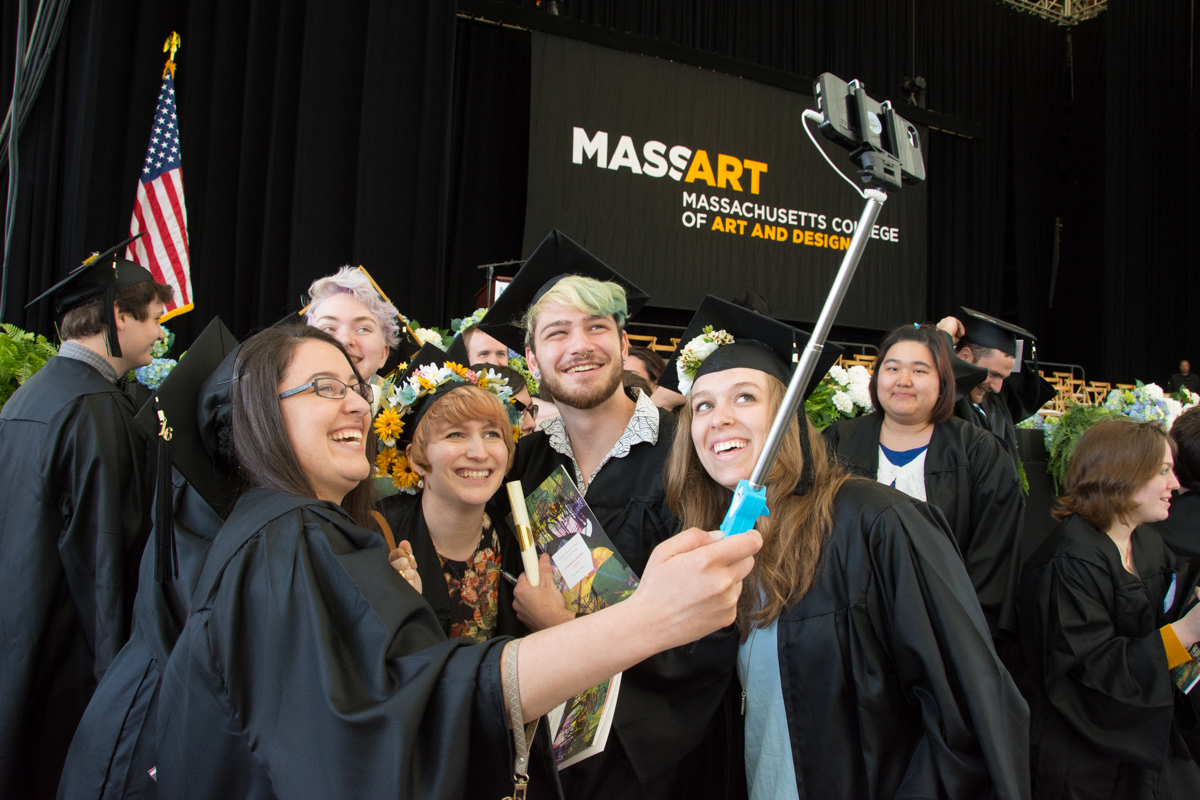 Commencement 2018
Friday, May 25, 2018
12:00pm - Student arrival; doors open to the public 
1:00pm - Ceremony
Honorary Degree Recipient: Wangechi Mutu
Blue Hills Bank Pavilion
290 Northern Avenue, Boston, MA 02110 
GUEST INFORMATION
The Blue Hills Bank Pavilion (formerly the Bank of America Pavilion) is an open-air, tented amphitheater on the South Boston Waterfront.
 
Pavilion doors open at 12:00 pm.  No tickets are required and there is no limit to the number of guests you may bring.  There are approximately 5,000 seats in the amphitheater, 500 of which are uncovered; we encourage you to plan accordingly.
 
As a safety precaution, all bags are subject to search by Pavilion security staff upon entrance to the ceremony.  We encourage you to bring as little as possible to minimize waiting time.
 
MassArt encourages its guests to use Public Transportation whenever possible.  Take the subway, commuter rail or bus to South Station and connect to Silver Line Waterfront service. The Blue Hills Bank Pavilion is located one block away from the Silver Line Way stop.
 
For guests who are driving to the Blue Hills Bank Pavilion, paid parking is available at several garage and surface lots along Seaport Boulevard and Northern Avenue.
 
There will be a drop-off area at the Pavilion entrance for family members with physical disabilities or wheelchairs.
RESOURCES
CANDIDATE INFORMATON
All fees and other financial obligations to the College must be paid in order to receive a diploma or transcript after you have graduated. Graduation occurs after passing grades are received in all required courses; you are able to view any outstanding holds on daVinci. If you think you are delinquent in any manner, contact the Business Office (617.879.7900) for tuition and fees and/or the Library (617.879.7150) for library fines. If you borrowed a federal student loan while attending MassArt, you must complete loan exit counseling on-line at studentloans.gov prior to graduating. Please email the Student Financial Assistance Office at financialaid@massart.edu if you have any questions about this requirement. Transcripts with degrees posted will be available after Commencement.
 
Candidates that require ADA accommodations (interpreter for the deaf, wheelchair access, etc.) for the ceremony should report their needs to Sophie Jampel in the Office of College and Visiting Events at commencement@massart.edu (phone: 617.879.7934) before April 9, 2018. Her office will need time to fulfill such requests by Commencement day.
 
All candidates are encouraged, but not required, to wear cap and gown. For those who pre-ordered a cap and gown, pickup is now available in the MassArt/MCPHS Bookstore. A limited number of gowns are available for purchase if you did not pre-order online. Bookstore hours are 8:30am - 6:30pm, Monday-Thursday, 8:30am -
5:30pm Friday, and 10:00am - 3:00pm on Saturday. Payment is required at time of pickup.
Commencement Day Instructions
Graduates should report dressed in Cap and Gown to the Blue Hills Bank Pavilion at 12:00pm on Friday, May 25th.Appropriate signage and Commencement staff will direct you where you need to go.
 
If you have a unique name, or one that is frequently mispronounced, we strongly encourage you to contact Student Development so we get it right on your Big Day. Please visit Student Development on the 2nd Floor of Kennedy or contact Jocelyn McElrath at 617.879.7711 to review pronunciation.
 

A reminder to Graduating Seniors, your participation in the NSSE survey is needed! Look for a reminder in your MassArt email for instructions on how to complete this very important survey.
---
commencement events