Master Print Series: Winfred Rembert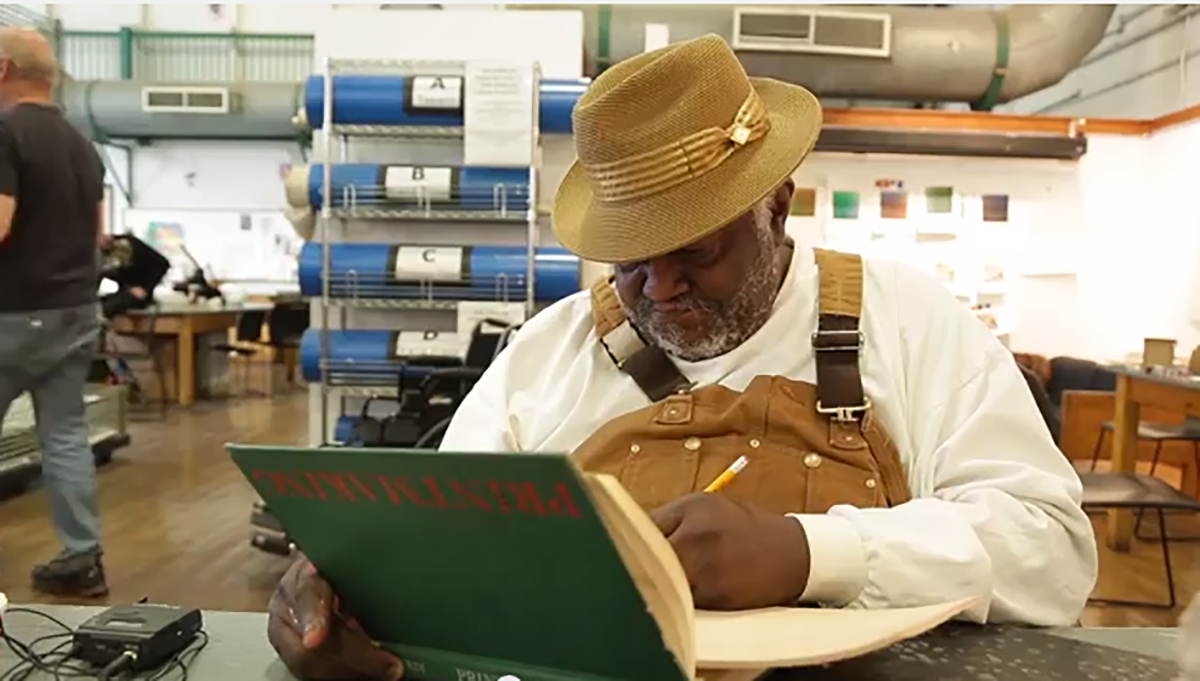 Date:
Wednesday, March 19, 2014
MassArt welcomed artist Winfred Rembert for the 2014 Master Print Series, an artist in residency project during which, an established artist transforms an idea into physical artwork, and invites students to collaborate in the art-making process.
A self-taught artist, Winfred Rembert records a painful chapter of American history in autobiographical paintings, created on hand-tooled and dyed leather, which explore the lives of African Americans in Jim Crow-era Georgia. After taking part in civil rights demonstrations, he survived a lynching only to be sent to prison to do hard labor on a chain gang. Another inmate taught him leatherworking and Rembert began depicting his past in engaging compositions and vibrant color. In many scenes, Rembert offers a raw view of racism, inequality, and violence while celebrating his community's resilience in the face of such overwhelming injustice.
Winfred Rembert also participated in the Adderley Lecture series, which features distinguished artists, historians, and writers and was established in 1995 in memory of Tyrone Maurice Adderley. Past Adderley lecturers have included Chakaia Booker, Melvin Edwards, Lorraine O'Grady, Alison Saar, Dr. Lowery Stokes Sims, and Fred Wilson, among others.
prints created
"Toiling," 22 1/4" x 19 1/2"
Color etching from three copper plates with hand coloring by the artist on Hahnemuhle white paper

"Miss Prather's Class," 22 1/4" x 18 1/2"
Color reduction woodcut from four blocks with four silkscreen colors and embossing on white Rives BFK paper

"All Me,"
Color reduction woodcut from two blocks and one silkscreen color on white BFK Rives paper