Master Print Series: Norberto Marrero and Janette Brossard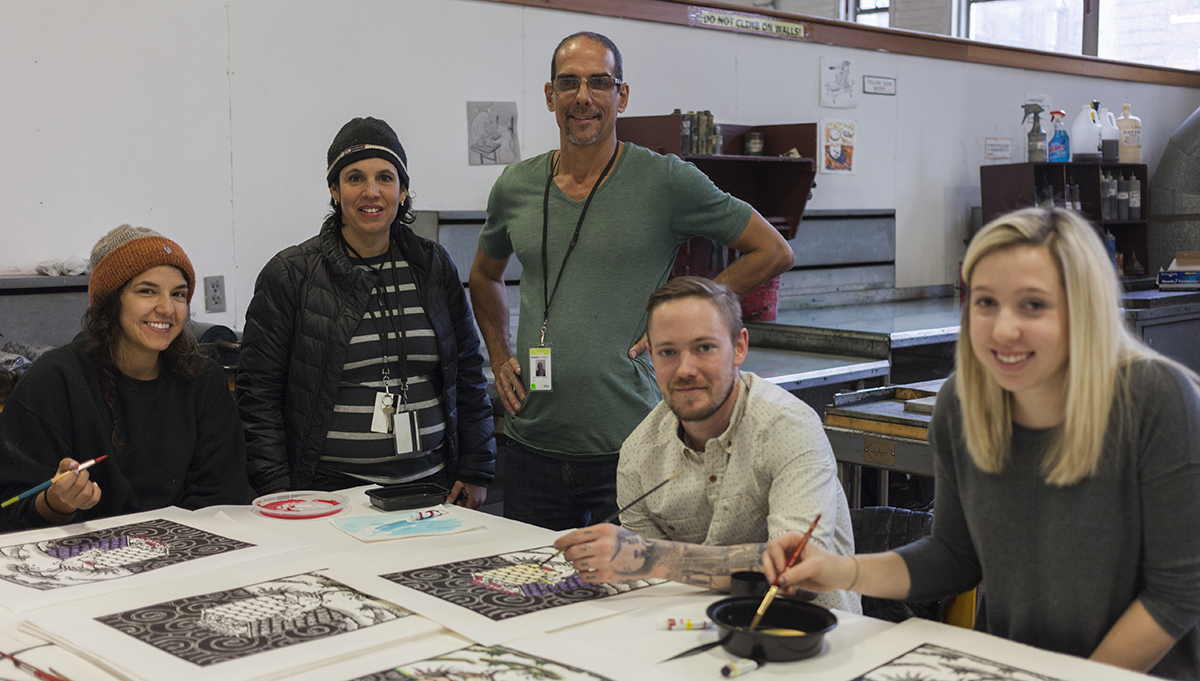 Date:
Tuesday, February 10, 2015
MassArt welcomed artists Norberto Marrero and Janette Brossard for the 2015 Master Print Series, an artist in residency project during which, an established artist transforms an idea into physical artwork, and invites students to collaborate in the art-making process.
Norberto Marrero was born and lives in Cuba. Marrero has exhibited extensively in Switzerland, Mexico, Canada, England, USA, Australia, and Italy. His Artist Books are in the collections of the Museum of Fine Arts, Boston; Smith College Museum; Duke University, Wesleyan University, Dartmouth University, and Stanford University Libraries. His woodcut book, Un Cuento de Hadas was the winner of the International MCBA Artist's Book Award, 2013.
Janette Brossard was born in Havana, Cuba, is a graduate of the Instituto Superior del Arte in Havana. Awarded first place at the National Printmaking Conference in Havana, 2001.She has exhibited her work extensively in Cuba, Switzerland, England, Spain, Mexico, the US, and Australia.
prints created
Norberto Marrero
"El Guardian," 21 3/8" x 17 3/8"
Woodcut, hand-colored with watercolor
 

Norberto Marrero
"Tension Vitál," 21 3/8" x 17 1/4"
Woodcut, hand-colored with watercolor


Norberto Marrero
"Virtudes del Poder," 31 1/2" x 37 3/4"
Woodcut, silkscreen, and hand-coloring in watercolor

Janette Brossard,
"Patriotic Fashion I," 23 1/4" x 17 1/2"
Etching and aquatint, hand-colored in watercolor

Janette Brossard,
"Patriotic Fashion II," 23 1/4" x 17 1/2"
Etching and aquatint, hand-colored in watercolor

Janette Brossard,
"Because I'm Happy," 32 1/2" x 42 1/2"
Collagraph and intaglio