You are here
MassArt and City of Boston Partner on "Business Workshops for Artists"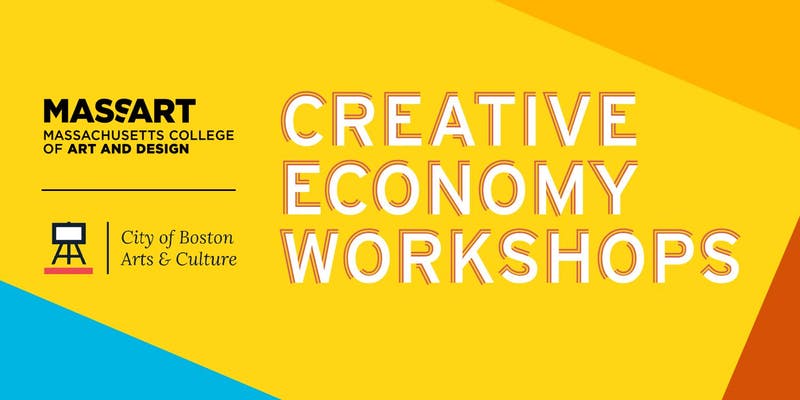 Boston, MA October 20, 2019 - Massachusetts College of Art and Design (MassArt) will host a series of business workshops for artists sponsored by the City of Boston in the 2019-2020 academic year. Entering its second year, the Creative Economy Workshops at MassArt is a series of one-day, non-credit lectures and workshops focused on professional development for practicing and aspiring creative entrepreneurs and freelancers. These classes are designed to give participants both a high-level introduction to, and tactical advice on, key areas of concern for creative professionals and businesses. 
By partnering with the City of Boston for the 2019-20 series, MassArt is able to offer an expanded menu of courses at the accessible price of $35 per workshop and $15 per workshop for artists who have the City of Boston's Artist Certification. 
Workshops in this year's series include: 
Pricing for Profit - October 26
Negotiation Strategies for Creative Professionals - November 9
DIY PR for Creative Business - December 14
Tax Tips for Creative Professionals - January 22
Legal Issues for Artists and Designers - February 8
Branding for Creative Business - March 21
Business Model Design - April 4
Digital Marketing for Artists and Designers - April 18 
Fundraising for Creative Projects - May 9 
"Supporting local artists and giving them the resources they need to thrive in Boston is a major priority of our office," said Kara Elliott-Ortega, Chief of Arts and Culture for the City of Boston. "This partnership is a great way for us to expand the professional development opportunities currently available to artists, in a way that is more accessible to all artists in Boston."
MassArt students and City of Boston Certified Artists are eligible for a reduced ticket price, those interested may email ce@massart.edu to inquire. 
To register please visit - massart.edu/workshops 
Location
Massachusetts College of Art and Design
Design and Media Center Atrium
621 Huntington Avenue
Boston, MA 02115 
Public Transportation
MBTA Green Line E Train (Longwood Medical Area stop)
Route 39 MBTA Bus (Huntington Avenue @Longwood Avenue stop)
ABOUT MASSART
Massachusetts College of Art and Design (MassArt) is a public, independent institution that prepares artists, designers, and educators from diverse backgrounds to shape communities, economies, and cultures for the common good. One of the top colleges of its kind in the United States since its founding in 1873, MassArt has built a legacy of leadership as the first freestanding public college of art and design in the country, and the nation's first art school to grant a degree. The College offers a comprehensive range of undergraduate and graduate degrees in art, design, and art education, all taught by world-class faculty. MassArt is also home to the MassArt Art Museum (MAAM), opening February 2020. Formerly the Bakalar & Paine Galleries, MAAM is MassArt's free contemporary art museum, professionally curated to enrich the academic curriculum and make contemporary art an accessible experience for all. Among MassArt's most accomplished alumni are designer Brian Collins, multimedia artist Sam Durant, art dealer Arne Glimcher, Oscar-winning set designer Nancy Haigh, visual artist and composer Christian Marclay, 2016 Project Runway winner Erin Robertson, interior and lifestyle designer Kelly Wearstler, and conceptual artist William Wegman. To learn more, please visit massart.edu.
ABOUT the Mayor's Office of Arts and Culture 
The Mayor's Office of Arts and Culture's mission is to support artists, the cultural sector, and to promote access to the arts for all. The office houses the Boston Cultural Council, the Boston Art Commission, and the Poet Laureate program. Responsibilities include implementing the City's cultural plan, Boston Creates; commissioning public art, managing the Boston Artist-in-Residence program; curating exhibitions in City Hall; and operating the historic Strand Theater in Dorchester. For more information go to: boston.gov/departments/arts-and-culture.