You are here
MassArt Ciné Culture: Kevin Jermoe Everson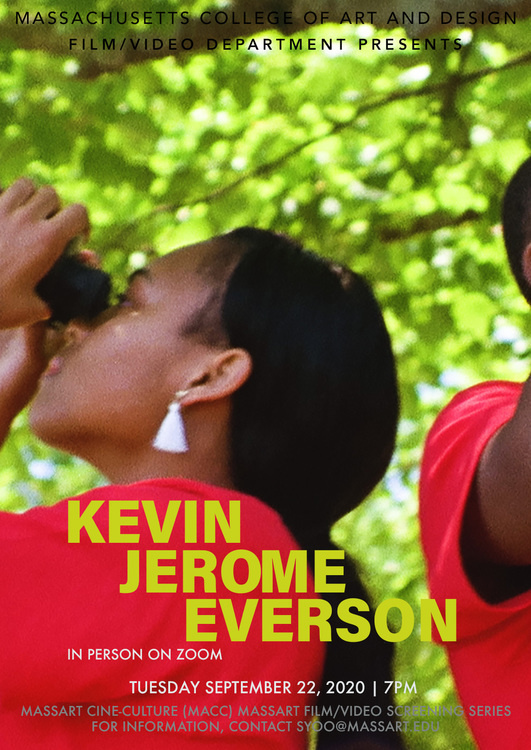 Date:
Tuesday, September 22, 2020
The Massachusetts College of Art and Design Film/Video department is pleased to welcome Kevin Jerome Everson to the Fall 2020 installment of the MassArt Ciné Culture (MACC) screening series.
Artist/Filmmaker Kevin Jerome Everson was born and raised in Mansfield Ohio. He has a MFA from Ohio University and a BFA from the University of Akron. He is currently a Professor of Art at the University of Virginia in Charlottesville Virginia.  He has made nine feature length films and over one-hundred and sixty short films.
Everson's films and artwork have been widely shown at venues including Sundance Film Festival, Berlin Film Festival, International Film Festival Rotterdam, Oberhausen Film Festival, Venice International Film Festival, Toronto International Film Festival, New York Film Festival, Ann Arbor Film Festival, The Museum of Modern Art in New York, the Whitney Museum of American Art in New York, Smithsonian Museum of African-American History in Washington D.C., The Tate Modern in London, Whitechapel Gallery in London, Andrew Kreps Gallery in New York and Centre Pompidou in Paris. The films were streamed on multiple platform sites including Made in America: Cinema of Kevin Jerome Everson on MUBI. The work has also been recognized through awards and fellowships such as a Guggenheim Fellowship, an Alpert Award, a Heinz Award, a Creative Capital Fellowship, an NEA Fellowship, Ohio Arts Council Fellowships, an American Academy in Rome Prize and an American Academy in Berlin Prize.
Everson will screen a program of shorts and his 2017 feature Tonsler Park for the MACC audience asynchronously, and will join us in person on Zoom post-screening discussion and Q&A.