Rainfield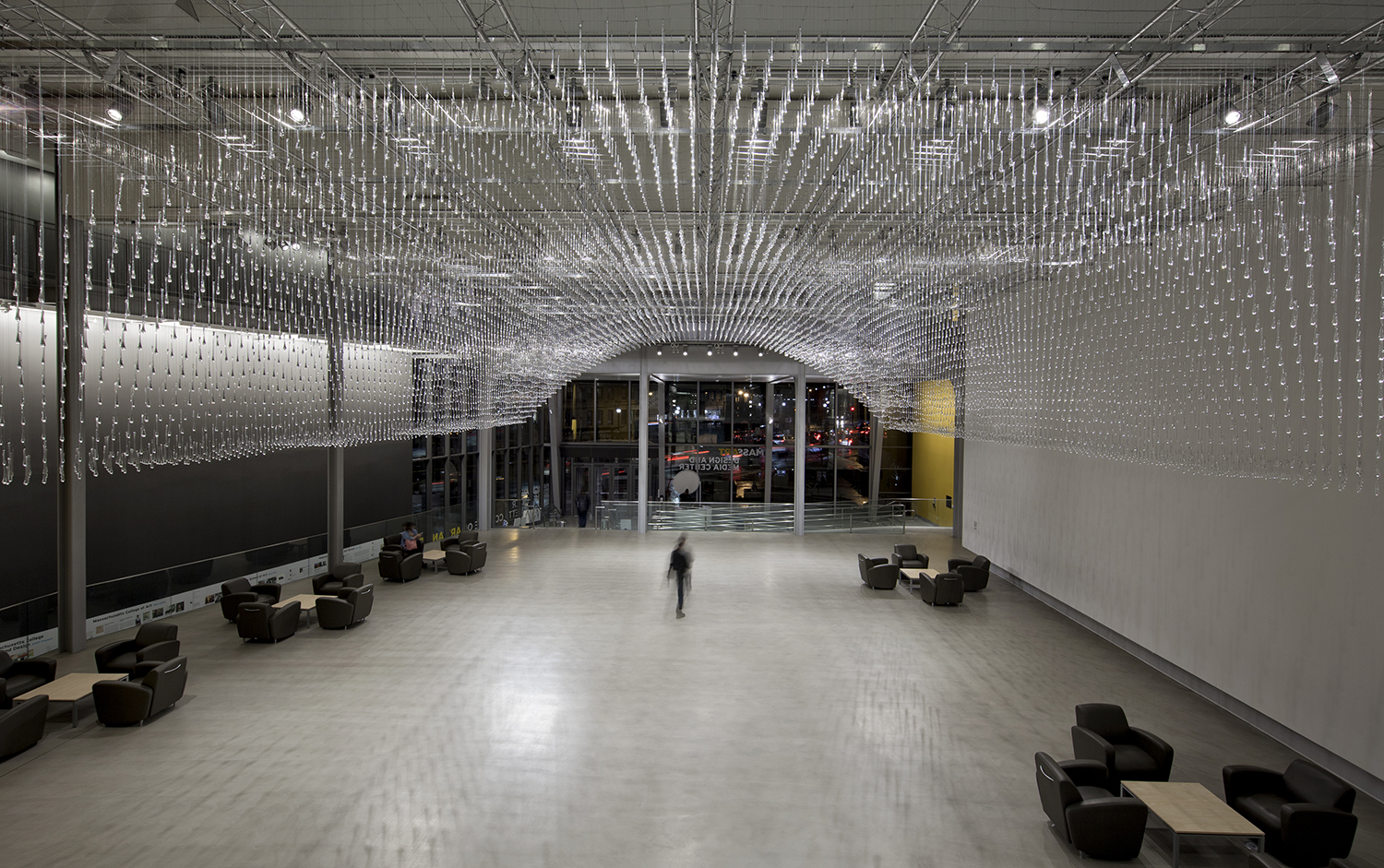 Dates:
Monday, January 23, 2017

to

Friday, January 11, 2019
Rainfield is the first site-specific installation in the College's new Design and Media Center. Conceptualized by Visiting Professor, sculptor Daniel Clayman, this installation was created in partnership with his 18 students in the fall 2016 class Structured Light.
---
Artist Statement
Based on the sensual, poetic moodiness of a rainstorm, while tapping into a visceral memory of the sound of rain on a copper roof, Rainfield allows me to continue my exploration of the landscape sited in interior spaces.
In particular, Rainfield, as installed at Massachusetts College of Art and Design's new Design and Media Center, has prompted me to create a composition that at 60 feet long is composed of 10,000 unique, hand formed glass raindrops.
The installation is a direct reference to the architecture of the great European Cathedrals and a captured moment in a time of great visual wonder.
As frequently happens to me, the idea for Rainfield came in a flash, a soaking wet flash as I walked through a rainstorm in downtown Providence, RI. With a nod to Pointillism, I have set out to produce a visual statement where the thousands of elements combine to make a singular moment, prompting the viewer to embrace the beauty of the gathering storm.
-- Daniel Clayman
---
About Daniel Clayman
Daniel Clayman is a sculptor, born in 1957 in Lynn, MA. Always the tinkerer, Daniel had planned a career as a theater lighting designer, studying in the Theater and Dance Department at Connecticut College, eventually dropping out to work in the professional theater, dance and opera world. A chance class in 1980 introduced the artist to using glass as a sculptural material. He received his BFA from Rhode Island School of Design and has maintained a studio in East Providence, RI since 1986.
His interests in engineering, the behavior of light, and the memory of experience, acts as an impetus for much of the work. In the end, Clayman's sculpture is a "manifestation of a moment of thought." Working large and small, he employs technology from the simplest hand tool to the latest three-dimensional modeling and production tools.
An artist/educator, Daniel has taught both here in the U.S. and abroad. He has been a Visiting Critic at the Rhode Island School of Design and Artist in Residence at Tyler School of Art and Massachusetts College of Art and Design. He teaches at Penland School of Crafts, Pilchuck and The Studio at the Corning Museum of Glass, among others. Currently, he is an Assistant Professor in the 3D Department at Massachusetts College of Art and Design.
---
Plan Your Visit
Location
MassArt Design and Media Center
621 Huntington Avenue (Avenue of the Arts), Boston
Hours
Rainfield on view starting January 2017
Design and Media Center open daily 7:00am-7:00pm
Public transportation
MBTA Green Line E Train (Longwood Medical Area stop)
Route 39 MBTA bus (Huntington Ave @ Longwood Ave stop)
---
Resources
---
Due to the scale of the project, several glass studios volunteered to help with rain drop production. A special thanks to: Ed Branson Glass, Ashfield, MA; Peàn Doubulyu Glass, Providence, RI; Worcester Craft Center, MA; and Pittsburgh Glass, PA.