You are here
Bread and Puppet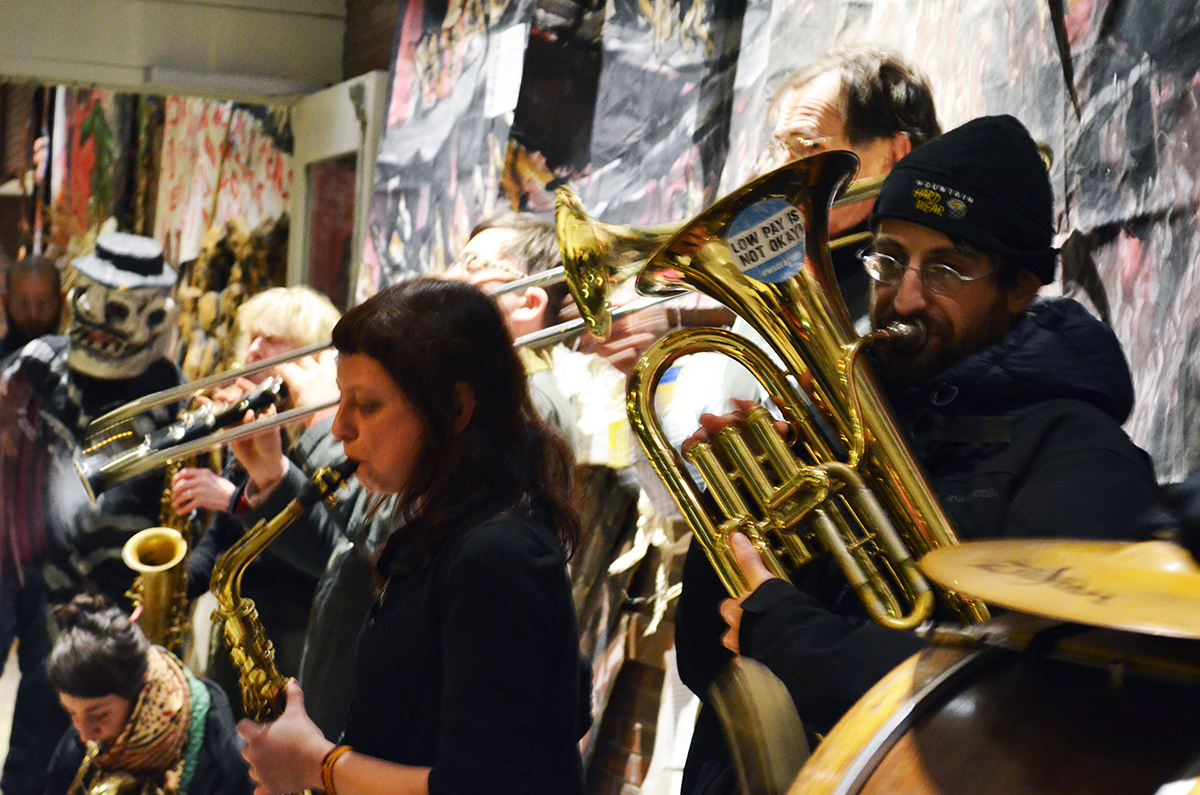 Date:
Thursday, February 11, 2016
MassArt to host Bread & Puppet Residency
February 11-21 2016
Public invited to participate and attend
Massachusetts College of Art and Design (MassArt) will host Bread & Puppet Theater, featuring Founder and Artistic Director Peter Schumann, for an 11-day Artist-in-Residency February 11-21. MassArt students and community partners will collaborate with the troupe throughout the residency; the public is also invited to participate as volunteer puppeteers and attend the performances.
The Bread & Puppet residency at MassArt was established through Academic Affairs, and is co-organized by the Center for Art and Community Partnerships (CACP) and the Studio for Interrelated Media (SIM) academic department with the intention of offering students and community members alike the opportunity to participate in the interdisciplinary residency program in a meaningful way. The residency offers many entry points for artists, designers, and educators to collaborate with the troupe and gain valuable experience. Students and volunteers will attend performances, rehearse and perform with the troupe, assist with production, and document the shows. Through these opportunities, participants will learn what it means to be an activist artist, how to respond to real life issues through the performative process, and how to create work collaboratively with other artists.
MassArt students will participate in the residency as independent study with the Studio for Interrelated Media, or through related class offerings such as playwriting through the Liberal Arts department, puppet-making through Fine Arts 3D, or live drawing sessions during the rehearsals.
The Center for Art and Community Partnerships is partnering with several community-based organizations to introduce new audiences to Bread & Puppet. Sociedad Latina is a primary community partner for the residency and plans to engage its members through many art forms such as instrumental accompaniment during performances, video documentation of the shows, as well as rehearsals and performances with the troupe.
Get Involved
The residency opens with a Fiddle Sermon on February 11, delivered by Peter Schumann, followed by a question and answer session with the Bread & Puppet company, a parade through MassArt's Design and Media Center, and a reception in Peter Schumann's exhibit in the Tower Lobby. The residency will continue with two different kinds of performances that feature Bread & Puppet's signature powerful imagery, masked characters, and giant papier-mâché puppets, The Overtakelessness Circus (February 13-14) and The Seditious Conspiracy Theater Presents: A Monument to the Political Prisoner Oscar Lopez Rivera (February 17-21).
Additionally, Peter Schumann's political art installation titled North East Kingdom Weapons and Tools for Decapitalization will be on view (Feb 12-21). Following each performance, Schumann's homemade sourdough rye bread (spread with garlic-laden aioli), freshly baked in a temporary outdoor brick oven in the MassArt courtyard, will be offered to visitors.
Resources