You are here
Biodesign Challenge Presentation: The Plastic Revolution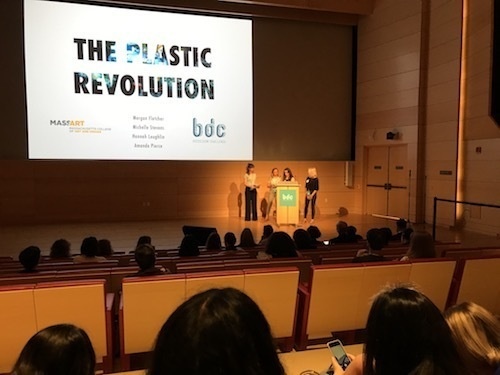 Date:
Wednesday, October 23, 2019
Come hear the students who represented MassArt at the Biodesign Challenge summit in New York City this past summer. They will present their work to the MassArt community.
In Spring 2019  Professor Jennifer Varekamp taught a new course, Biodesign: Designing for a Better World.  Students in this course learned about new forms of fabrication, tools, and materials used in biotechnology, and met with expert consultants based in Boston labs and companies. Working in small, interdisciplinary teams, the students in Biodesign envision, develop, and prototype a biodesign project addressing a real problem with an achievable design solution. The winning team gave a presentation on their project at Parsons School of Design in NYC, for an international audience of fellow presenters and judges. Professor Varekamp is offering Biodesign again in Spring 2020 as a as a studio elective (EDFD 311) open to juniors and seniors in all majors. 
Come to the lecture and hear from the students whose project, "The Plastic Revolution" was selected to represent MassArt talk about their experiences.  Professor Varekamp will be present to answer questions about the course. 
Questions?  Email Jennifer Varekamp or Joanne Lukitsh